---
In Le Unique Bra we are offering you a very competitive wholesale distributor price already, however, every distributor will have the opportunity to earn an extra bonus by bringing new people into the business, per every person that buys the initial kit consisting of 25 bras, you will receive a commission of $400 dlls payable in cash. the first order applies for the 15% commission starting with the 26th garment ordered and future orders.
---

---
As long as a Le Unique Bra Distributor places at least one order in a given month, that distributor will receive a 15% monthly referral fee or commission on the wholesale purchases of those distributors that she/he directly introduces to the company. These Le Unique Bra Distributors must show as direct referrals in the Le Unique Bra system. In addition Le Unique bra will pay 7% on the second referral line and 3% on the third referral line as indicated in the following diagram.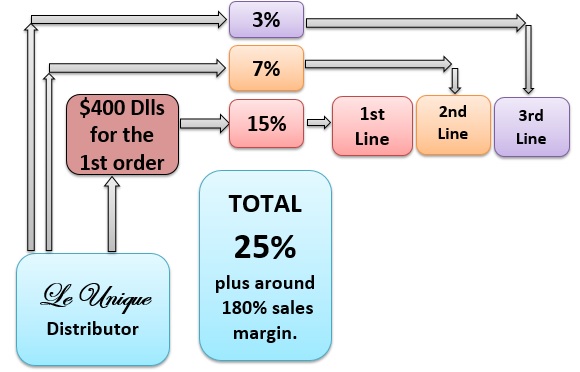 --- ---
START YOUR OWN BUSINESS
---
---
A beautiful business can be yours!
Discover how can you succeed by representing products that enhance a woman's beauty.
Ever consider going into business for yourself? Need flexible hours and more money? With Le Unique Bra you can have it all! We offer ongoing professional training for your business success. You are free to set your own hours to fit your lifestyle. Our Starter Program allows you to begin your business quickly and with little risk. Earn an average of 50-60% of retail.
We have everything you need to start your own business and we have many choices for you to represent the products that interest you the most. We offer product lines that would further enhance your business as they are all products women want and need. So there is no limitation on how big your business can be. The most important thing to do is get trained, use the products yourself and talk to everyone to share your excitement. All you have to do is complete a simple registration form, pick your starter kit and you will be on your way to an exciting and fulfilling career.
We have everything you need to acquaint you with the company and training materials to help you launch your business career now that you have made the decision to become a professional bra fitter. To help you succeed you will have ongoing support in providing training materials, newsletters and customer service access. As a Le Unique Bra Distributor you have several choices on how to start your business. We have many different collection kits available depending on the product line you wish to pursue. Tell your family and friends that you are beginning a great new business and that you need their help by booking shows/clinics/appointments for you. They will be more than willing to have a party for you.